Casamigos: Tequila By Clooney & Gerber
Celebrity inspired spirits have been around for years, with a focus on tequila, noting the most popular being Cabo Wabo by Sammy Hagar. But actors and famous restauranteurs are getting into the game. George Clooney and Rande Gerber have teamed up to create Casamigos – a blanco and a reposado.
Rande gives a brief summary of the two blends: "Casamigos Reposado is smooth and clean with hints of caramel, while Casamigos Blanco is crisp and clear, with subtle hints of vanilla and a smooth finish. Both are great served neat or on the rocks, mix well with everything, and are the perfect base for premium cocktails."
The Blanco is twice-distilled in copper-lined stills, then filtered, and aged less than two months in stainless steel containers. While the Reposado is aged for seven months in American white oak casks that have been reconditioned after originally being used for premium-aged whiskey.
The Promo Video
This promo video starring Clooney and Gerber, also features their significant others – Stacy Keibler and Cindy Crawford, respectfully – in various combinations of each other in bed [tastefully, I might add]. The requisite shot of the a bottle of Casamigos sits on the nightstand.
The Promo Tour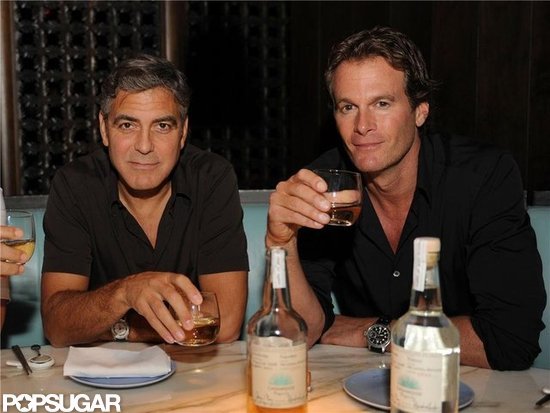 Original image found at Pop Sugar
The pair got together this week in a few cities to promote their new tequilas. One stop was in Los Angeles, where Jordan Catapano, author of "This Girl Walks Into A Bar" was in attendance. Proof she was there is right below.
Vegas Stop

Original Photo credit: Denise Truscello
The spirited duo of Clooney and Gerber made a stop in Las Vegas this week while I was here for CES, but alas, I heard about this a couple days too late. Regardless, I will seek out this tequila in the coming weeks and give it a sip to see how it holds up.
UPDATE corrected the link to Jordan's blog post from the event.